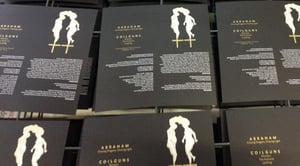 CHF

15.00
Release sept. 20th 2014
Comes out with a different artwork than the vinyl. Illustrations by David Haldimann (https://www.facebook.com/davidhaldimannart). Everything was screen printed by OUT OF GAS on 220g quality paper. The Records comes in 4 different editions. The 2 panels digi-whatever was all cut, folded and glued by the band members.
Available colors
White and Gold ink on Black paper (limited to 75 copies)
White and purplish ink on Cosmo Pink paper ( limited to 64 copies)
White and blueish ink on Riviera Blue paper ( limited to 74 copies)
White and brownish ink on Fawn paper (limited to 84 copies and only available for promo purposes)
HAM & GUNS
August 2013: As Luc Hess and Jona Nido are touring Mexico with their former band THE OCEAN COLLECTIVE, producer Ricardo Zuniga invites them to DBRICK PRODUCTIONS studio in Mexico City. In two days, the two partners write and record a couple of songs for their side-project COILGUNS.
Used to collaborate with different artists and bands - and because releasing records with friends always is a lot of fun - they decide to release these tracks on a split record. They approach their countrymen in ABRAHAM to have them add some beard and one dark sounding masterpiece. Considering the level of intimacy gained through several nights of debauchery previously spent together, ABRAHAM immediately accept.
Abraham's contribution to this split record is one long and dark anthem to hair growing and depression. Now writing a new record, the bearded quintet experimented a lot with this track while keeping their own unique sound of low tuned black-sludge-beard-what-the-fuck-ever-metal. Absolute songwriting experts, they never leave any detail on the side and this collaboration was a good opportunity to challenge their own writing approach with having to deal with very short deadlines. The result is fucking epic.
Coilguns's is acting more like a patchwork here. Experimenting a lot as well, the band always tries to destabilize their listeners, even the die-hard ones. If the first two songs were recorded about a year ago, the third one is the result of one live session in France in April 2014 after a show. All three songs are very different, ranging from very low tuned straight hardcore à la Cursed to ambient arpeggios and up to some crazy 70's rock jam featuring Pete Adams from Savannah's heavy rock heroes Baroness. Nobody knows if any of these songs will represent any of the band's future sounds.